Conference on Employability of Graduate Students with Disability in Ethiopia
February 13th 2014
Eshetu Chole Conference Hall
Addis Ababa University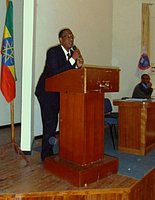 The National Conference on "Employability of Graduates with Disabilities" was successfully conducted on February 13, 2014 at the Eshetu Chole Hall in the Business and Economics College. We had over 56 participants from Governmental sector ministries, Non-governmental Organizations, National Association of Persons with Disabilities, Students with Disabilities as well as PhD students from the Department of Special Needs education at Addis Ababa University. In this National Conference, two presentations were made by the research team.
The first presentation was on "The Research Result of the Employability Study ". The research undertaking got several appreciations from the participants as it was the first attempt to map-out the situation of the employability of persons with disabilities in the country.
The second presentation was made on the "Manual for Employability of Persons with Disabilities in Ethiopia". Following this presentation there were productive discussions and several contributions from the participants of the study. One of the pertinent suggestions made by the participants was that the Manual needs to be enriched and up dated by involving other stakeholders who have a direct engagement on the ground. Indeed, the National Conference gave us a lot of opportunities to indentify organizations with whom we would be able to collaborate in the future. This I think ensures not only to the continuity of the discussion but also the sustainability of the project.
Furthermore, among others the following sound suggestions have come –up in the Conference; the use of media to disseminate the research output, the need for encompassing other disability groups such as persons with intellectual disability, making the document available in different local languages, including employment related local and international instruments, the importance of raising awareness for policy makers, study best practices which can be adapted to our situation and raising the awareness the policy makers and the general public.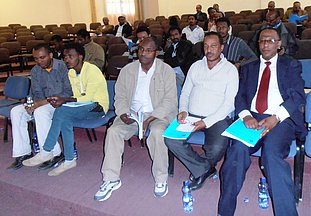 RESPOND-HER
Department of Education

University of Vienna
Sensengasse 3a
1090 Vienna
Austria

T: +43-1-4277-468 01
F: +43-1-4277-468 09